Some of our recent Projects:
One of the markers of our success is how many years a client will come back and use our services. Here are a few examples of some of our bigger projects and on-going clients:
---
Canadian National Exhibition:
Kristi and Greg have performed annually at the CNE for many years, and for eight years co-ordinated the Under the Little Top program. This program allowed hundreds of children to partake in circus workshops during the course of the fair. We managed all aspects of this program from hiring staff, scheduling, contracting, insurance and more.
---
The Ontario Science Centre hired Heath Tarlin to create, produce, and perform shows annually for 8 years that worked in conjunction with their exhibits. Two of these shows (Fizzical Fizzicks and Spaced Out!) were later adapted for schools and have toured annually since then.
---
For 13 years, Heath Tarlin Entertainment put together a street entertainment package for the City of Port Colborne's Canal Days Festival.
---
Heath Tarlin Entertainment has booked over 20 artists annually for the Liuna Local Holiday party event. This event features stage shows, mascots, balloon artists, face painters, circus acts and more.
---
Walmart Canada ran a coast-to-coast walk where for two years they had performers on site at 8 cities across Canada. Heath Tarlin Entertainment booked and co-ordinated strolling performers at all eight cities involved in the walk.
---
Holiday production at Casa Loma. In 2011 Heath Tarlin oversaw the creation and production of two separate shows that ran back to back, five times a day for 37 days straight. In addition to the two stage shows, we were responsible for the creation of exhibits throughout the castle and the hiring of atmosphere performers and stage crew. We were responsible for on-site management.
---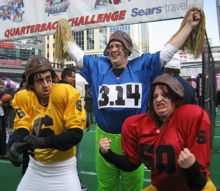 Heath Tarlin has supplied talent at events for Toronto Hydro, Bennett Jones Law firm, the NHL outdoor game, The 100th Anniversary of the Grey Cup, The Niagara Food Festival, Simcoe Friendship Festival, the Pan Am Games and many, many more.